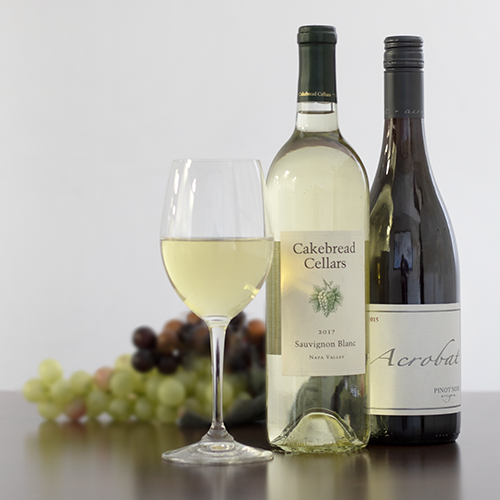 Cakebread
Sauvignon Blanc
6oz GL 12     9oz GL 18       BTL 45 
The wine opens with vivid tropical aromas of white flowers, ripe melon, and sweet citrus. The citrus and tropical characters extend onto the palate with ripe guava and crisp pink grapefruit, balanced by bright acidity and accented by a flinty vein of minerality.
Acrobat
Pinot Noir
6oz GL 12      9oz GL 16      BTL 43
The nose has rich, fruit-forward aromas like ripe cherries and strawberry pie, with hints of cinnamon, vanilla, and mocha. Ripe strawberries and dark chocolate up front, followed by earthy and spicy notes.
About Z. Alexander Brown

Zac Brown has always been a man on a journey. Most know him for his music, yet his artistry and creative spirit are without boundaries. No matter where the adventure takes him, Zac has always remained downhome and truthful to his roots. His lifelong connection to the land and passion for bringing music, food, and people together was a natural path to wine.
John Killebrew, who grew up in California, developed a love for nature, gardening, cooking, and music at an early age. Though he and Zac grew up on opposite ends of the country, distance did not stop them from sharing a common passion and respect for the land.
As a winemaker, John is able to tap into his desire to make things with his own hands, stay immersed in nature, and find each season's expression through the vines. Z. Alexander Brown is the reward of this relentless commitment and partnership with Zac to create bold "uncaged" wines rooted in the heart of California wine country. 
About Steele

It's all about minimalism. Steele uses standard, non-GMO yeasts, natural fermentations, and no extra additives or enzymes. From handpicking grapes to gentle processing and bottling in their own facility, grapes are cared for from vineyard to bottle. It's all about a light hand in the winemaking to better highlight the aromas and flavors of the quality fruit.
After harvest all of the single vineyard grapes are kept separate until blending just prior to bottling.  That small lot management allows the integrity and individual terroir of each vineyard to show through in the wines.
Winemaker Jed Steele's experience and longevity as a winemaker set his brand apart.  Over Jed's years in the wine business he has gotten to know vineyards and growers from Santa Barbara County to Washington State.