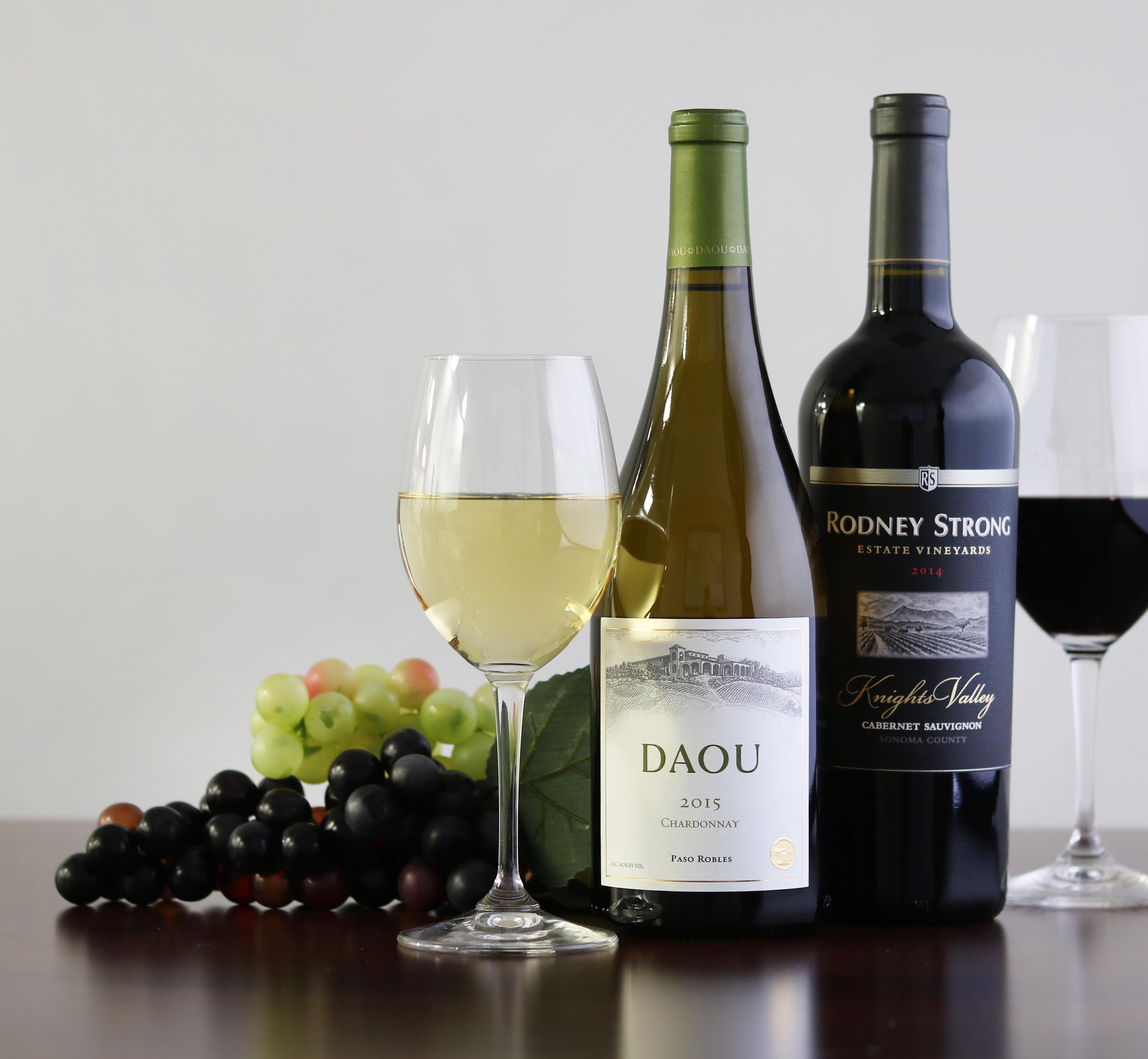 November 1 – January 3

Rodney Strong Knights Valley  
Cabernet Sauvignon, 2014 
6oz GL 16      9oz GL 24       BTL 63
This deeply colored Cabernet is bursting with aromas of spicy dark plum, crushed blackberries and wild raspberry. The complex layers of spice and mocha chocolate on the palate are framed in rich, velvety tannins with a long lingering fi nish. Enjoy this Cabernet now with a grilled leg of lamb, a burger with gruyere cheese and sautéed mushrooms or cellar it to enjoy over the
next 3 to 5 years.
DAOU Vineyards & Winery
Chardonnay, 2015 
6oz GL 11      9oz GL 16      BTL 43
Fragrant nose displays scintillating aromas of pineapple, Asian pear, vanilla crème and toasted almonds, with notes of allspice and honeysuckle. Creamy, smooth texture with crisp and vibrant acidity, the palate delivers flavors of white peach, casaba melon and lemon zest, along with underlying tropical notes of banana, papaya and pineapple. The finish is long and very clean, leaving lovely sensations of citrus and vanilla with just a hint of star jasmine. finish is graceful and sophisticated. 
About Rodney Strong Knight Valley

At Rodney Strong Vineyards we focus on modern Artisan wine making, exclusively from Sonoma County, California. Our family-owned winery is committed to quality wines and to protecting our resources for the future. We are certified sustainable, practice Fish Friendly Farming and Sonoma County's first carbon neutral winery.
Protected from direct Pacific Ocean influence, Knights Valley is the easternmost Sonoma County appellation, known for its warm days and cool nights and is the warmest viticultural region in the county. The valley lies between the Alexander Valley and Chalk Hill wine regions to the west and is situated at the foot of Mount St. Helena to the north. The valley's beauty and mineral-rich volcanic soils make it well suited to quality viticulture.
Knights Valley is a rustic and undeveloped hidden gem of volcanic rock and alluvial soils that are perfect for growing Bordeaux-style wines, especially Cabernet Sauvignon. A mild, dry winter encouraged early bud break in Sonoma County in 2014. The growing season was very warm overall, but tempered by overcast days in late July and late August and a heavy drizzle in early September, which slowed ripening through extended hang time on the vines. We
harvested the Cabernet Sauvignon and Malbec to make this wine from September 26 through October 10 under ideal conditions.
About DAOU Vineyards & Winery 
Family owned and operated, DAOU Vineyards is committed to producing collectible, world-class wines to rival the most respected appellations in the world. Situated on a 212-acre hilltop estate in the Adelaida District of Paso Robles, our remarkable geology, favorable micro climate, and high elevation were once described by renowned California winemaker André Tchelistcheff as "a jewel of ecological elements." As stewards of this beautiful terroir, DAOU's goal is to make unique fine wines that honestly and accurately reflect the potential of the estate and to craft Bordeaux style wines that combine Old World tradition with New World techniques.
The season started out on track with a warmer month of March and April. Bud break started early march and the soils benefited from a little more rain than the previous few years. May brought very cold temperatures to the mountain and strong winds which resulted in severe shatter. As a result of this, yields were 50% or more down from normal. At last, Heat finally arrived early June which allowed the small crop to ripen beautifully and on time by early September. 2015 did not see many heat spikes during the vintage and was a cooler vintage than normal. Because of the low yield, flavors are intense and balanced and tannins are very well integrated.