Bluegrass Hospitality Group (BHG) is seeking a senior graphic designer to work with members of the marketing team to visually convey the vision, message, and/or idea for a multi-brand concept. Graphic Designer will design, develop, and produce artwork from concept to completion.
Candidate must be able to work in Corporate Office (Lexington, KY) Monday-Friday, 8am-5pm.
Strengths of an ideal candidate include, but are not limited to, the following:
Creation of projects, campaigns, events, and promotions
Print Materials: Corrugated boards, Table tents, Menus, Brochures, Fliers
Print Ads: Publications, Programs
Signage: Internal/External, Parking, TV Slides, Banners
Logo Design
Coordination of print projects
Design and layout print materials
Obtain quotes, place orders, select paper, format for print production
Participation in photo shoots, as needed
Brainstorm ideas and vision
Coordinate props, supplies needed
Collaborate with photographer
Evaluate current trends and artistic campaigns
Research new and existing tools/techniques to keep programs current and relevant
Introduce new ideas/innovative solutions to elevate marketing efforts
Work alongside internal team members to update and enhance marketing efforts
Prioritize and produce multiple time-sensitive tasks in appropriate timeframe
Thrive in high-energy environment
Experience (5+ years) in graphic design, Required
Adobe Creative Suite, InDesign, Illustrator, Photoshop, Required
Adobe Premiere Pro, After Effects, Preferred
Ability to multi-task and adapt to fast paced environment
Organization, attention to detail
Our team works hard and plays harder!
Work alongside a talented team in a positive, fun atmosphere where team members are like family and the energy is unmatched. The benefits and delicious food are a bonus!
Competitive Salary
Health, Dental and Vision Insurance
Retirement Plan
Vacation/ Sick Time
BHG Food Allowance
Tenure recognition/ rewards
Continuing Education Opportunities
Weekly team lunch
Monthly team celebration
About Bluegrass Hospitality Group
Founded in 1998, owns and operates six original restaurant concepts: Malone's Steakhouse, Malone's Prime Events & Receptions, Harry's American Bar & Grill, Drake's, Aqua Sushi and OBC Kitchen. Restaurants are located in Kentucky, Tennessee, Alabama, Indiana, Illinois, North Carolina and employ over 1,700 team members.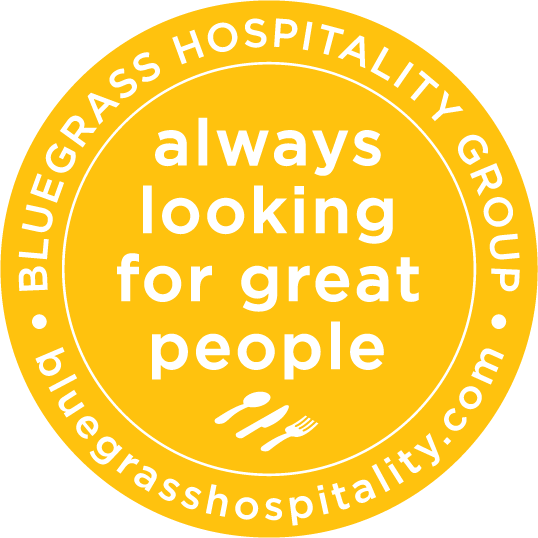 If you share a love for marketing and a love for food and hospitality, we would love to meet you! Please email resume and portfolio to
art@bhglex.com
!