Bluegrass Hospitality Group
---
Bluegrass Hospitality Group
Bluegrass Hospitality Group (BHG) is seeking an experienced web developer eager to elevate the brand through web and digital marketing efforts for a multi-brand concept.
Strengths of an ideal candidate include, but are not limited to, the following:
Web & Digital Efforts
Oversee web, software development and measurement resources
Manage all web projects pertaining to all BHG brands
Develop web pages and content consistent with BHG branding guidelines
Build prototypes that optimize the guest experience
Define strategy and architecture for next-generation mobile and web UI
Coordinate and manage special projects
Coordinate and participate in digital marketing efforts
Identify and resolve complications and/or issues
Research & Development
Evaluate current web and digital efforts to identify obstacles and solutions
Research new and existing tools/techniques to keep programs current and relevant
Introduce new ideas/innovative solutions to elevate programs and business systems
Able to work on third party libraries and integrations
Teamwork & Timeliness
Work alongside internal team members to update and enhance web and digital efforts
Partner with Marketing team on all online promotions, events and updates
Prioritize and produce multiple time-sensitive tasks in appropriate timeframe
Thrive in high-energy environment
Expertise & Experience
Bachelor's degree in Computer Science or related field, Recommended
Office 365 Intranet Development, Preferred
Five years experience in Information Technology, Preferred
Distinguished in WordPress, PHP, MySQL and JS
Experience in Salesforce, Survey Gizmo, Mailchimp, Social Media, Optimal
Experience in App Development, Optimal
Candidates must be able to work from Corporate office in Lexington, KY.
Our team works hard and plays harder!
Work alongside a talented team in a positive, fun atmosphere where team members are like family and the energy is unmatched. The benefits and delicious food are a bonus!
Benefits and Added Perks
Competitive Salary
Health, Dental and Vision Insurance
Retirement Plan
Vacation/ Sick Time
BHG Food Allowance
Tenure recognition/ rewards
Continuing Education Opportunities
Weekly team lunch
Monthly team celebration
About Bluegrass Hospitality Group
Founded in 1998, owns and operates six original restaurant concepts: Malone's Steakhouse, Malone's Prime Events & Receptions, Harry's American Bar & Grill, Drake's, Aqua Sushi and OBC Kitchen. Restaurants are located in Kentucky, Tennessee, Alabama, Indiana and North Carolina and employ over 1300 team members.
Qualified candidates may send resume to mikeh@bhglex.com.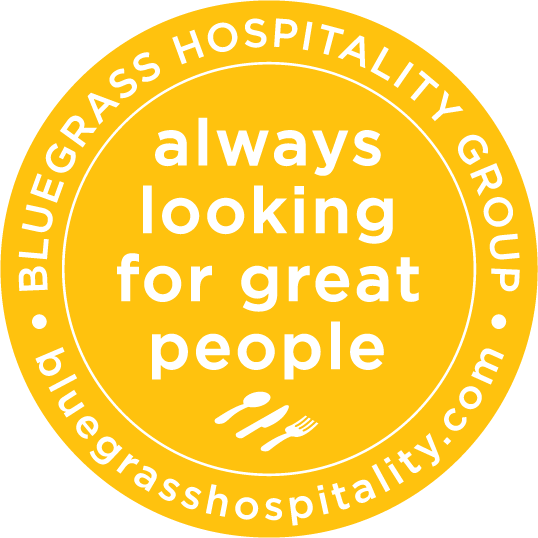 ---