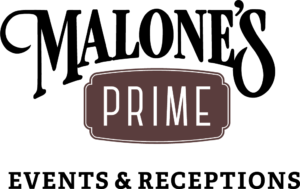 From informal business meetings to corporate events, birthdays to wedding receptions and each of life's special moments in between, every occasion should be celebrated.
The vision for Malone's Prime Events & Receptions evolved from a love for people and a passion for hospitality.  For many years, guests have come to know and love Malone's Steakhouse.  Providing a comfortable setting, exceptional service and a variety of menu items including USDA Prime Beef, Malone's has become a place where meals and milestones are shared, and guests feel like family.
Malone's Prime Events & Receptions accommodates private parties and celebrations while offering the same quality and service.  An event venue to accommodate parties large and small, Malone's Prime Event & Receptions is the perfect choice for any special occasion.
Rehearsal Dinners, Weddings & Receptions
Bridal Luncheons & Showers
Birthday & Anniversary Celebrations
Corporate Events
Cocktail Parties, Formal Affairs & Galas 
  With a variety of room and décor options, lighting, state-of-the-art audio-visual equipment and a plethora of delicious menu options, each client will be able to create a personal and memorable event for their guests. 
Contact our team to begin planning your special event, 859-977-2602 or email.